Coronavirus: Can you help?
Can you help? Want to join our community hub?
If you are a local voluntary group, local business or other agency offering help in the community, why not join our community hub to help people find support in this time of crisis.
It's free, just fill in our form at www.durham.gov.uk/covid19volunteer or call 03000 260 260. You will receive a call to verify your details and your service added to Locate. This will help people in need find information about your service.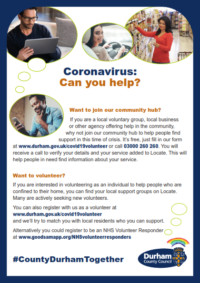 .
---